SEND INQUIRY NOW
Double Lane Sauce Liquid Packing Machine UMEO-160Y
Automatic double lane sauce packing machine is a kind of high speed liquid packaging machinery over single lane; the machine equipment is applied for soy sauce sachet pacakge; The machinei with magnetic drive pump instead of common motor pump because of the soy sauce feature; comparing with motor pump,the magnetic drive pump basic principles and advantages is: the pumped fluid is contained within a sealed housing eliminating the risk of leakage;also,the date printer is a twins code machine ;In order to make the whole machine works stable and fast; it adopts pneumatic with positioning pulling film with rotary cutter structure.
COMPONENTS
i . Vertical Packing Machine UMEO-160
The whole machine adopts multilane design with positioning vertical sealing and addtional middle pressure wheels structure to make sure the foil can be steadily pulled during the whole packaging processes; the horizontal cutter is a rotary type and the machine has a delivered product conveyor to reduct the total cost.
ii. Magnetic Drive Pump
The magnetic drive pump contains the pumped fluti completely within the pump housing; It only has a hermetic seal - a stationary gasket or O-ring that is not subject to wear from moving parts and is therefore ideally suited to applications where no leakage can be tolerated either on safety grounds or because the costs of recovery and treatment are prohibitive;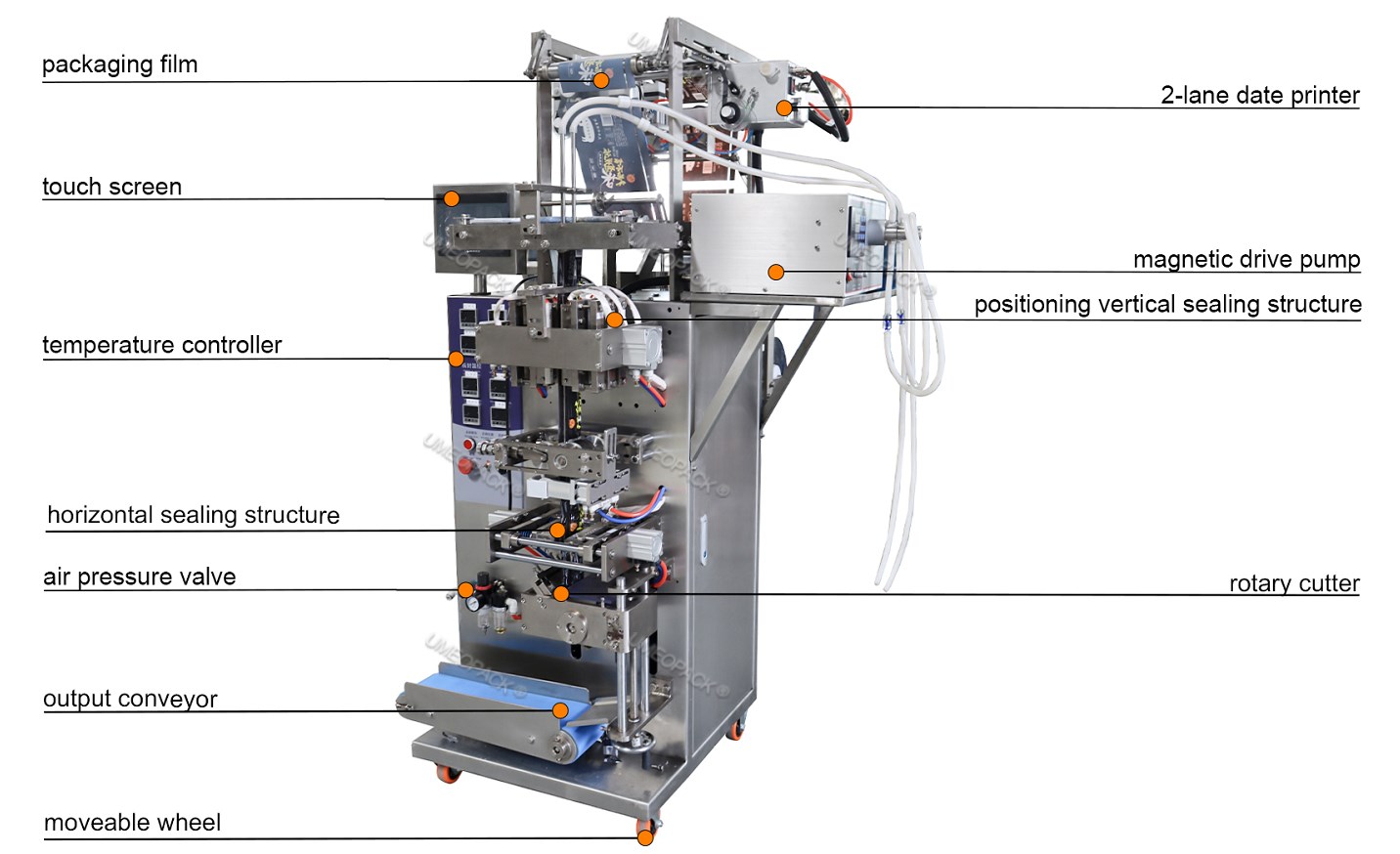 UMEO always pays more attention to the machine every part to make sure every client get get the best quality packaging machinery to increase your package capacity.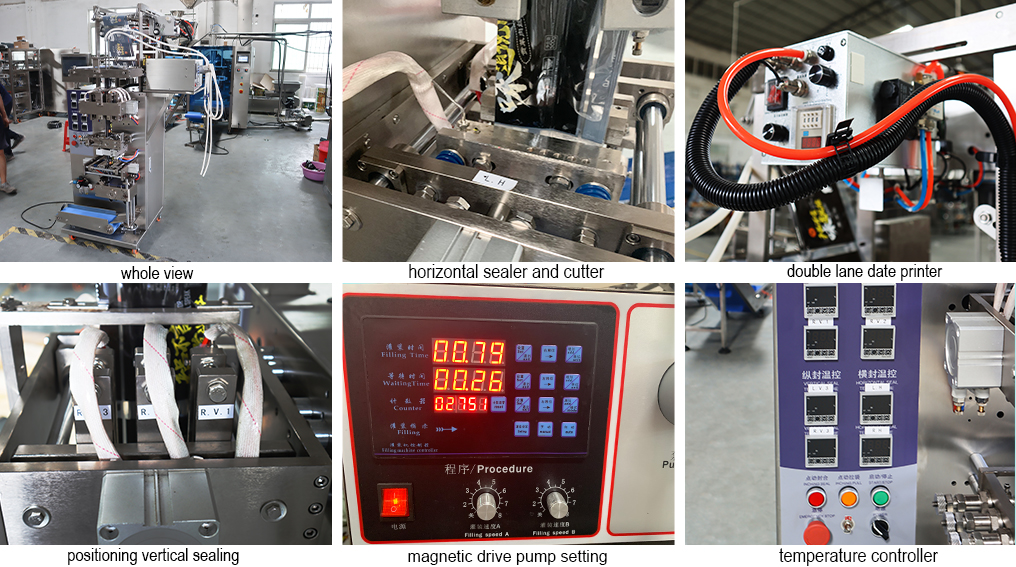 | | |
| --- | --- |
| Item No. | UMEO-160Y 2 Lane |
| Bag Length | 30-150mm |
| Bag Width | 40-55mm |
| Film Width | 110mm (Max.) |
| Packing Speed | 20-30 bag /min/lane |
| Gas Consumption | 0.32 m3/min |
| Air Pressure | 0.68Mpa |
| Power | 220V AC 50HZ/60HZ,Single phase,2.8kw |
| Package Material | Aluminium film,OPP/CPP,OPP/PE,PET/PE,PE/PE etc |
| Total Cubic Meter | 3.254 CBM |
| Gross Weight | 386 kg |
| H.S.Code | 8422.3030.90 |
Automatic double lane four side sealing sauce packing machine is suitable for kinds of liquid,such as oil,soy sauce,vinegar,chilli oil etc.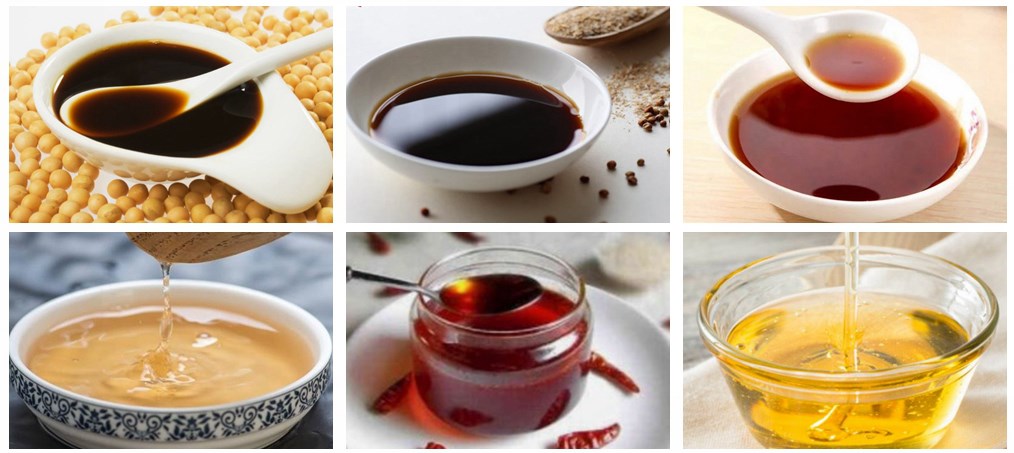 Aluminium or complex plastic film can be worked by this multilane packaging machinery and joint bag,punching pouch are available too.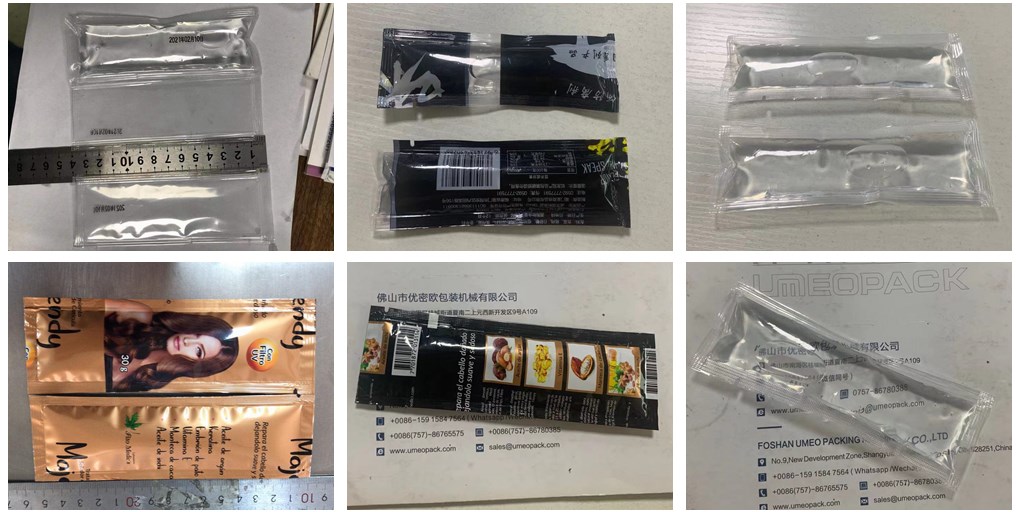 UMEO always pay more attention for packing machine every part,including the shipping package,with reinforced non-fumigation plywood box.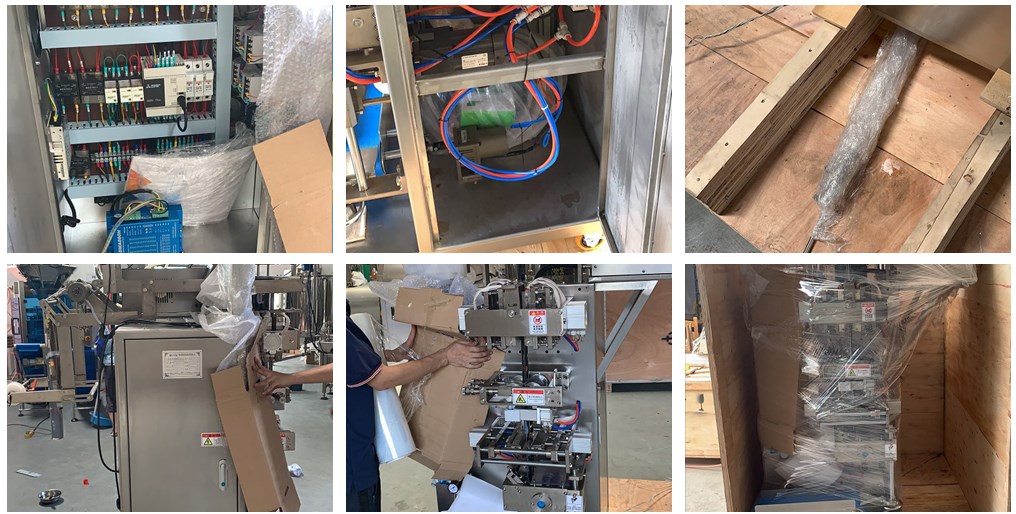 UMEO-160Y with packing machine is an new package solutions which can pack many different small granule foods packaging except referred foods; comparing the multihead weigher packaging solution,the volume cup weighing is not so precise as weigher,the more uniform of your product, the more precise of the weighing result;before each products package,you need to test the weight first by the adjustable measuring cup and the sensor controller.What's more,the vertical packer that you don't need to install any which you can operate it once connect with power enough.
Q: What kinds of product does you company have ?
A: UMEO has different machines,including vertical and flow packing machine;meanwhile,vertical packaging machinery mainly for granule package machine,liquid or sauce pack machine and powder packaging solution;
Q: What is product your packing machine can pack?
A: Our packing machine mainly pack Granule ( bean,rice,candy,hardware etc.); Liquid ( water,shampoo,jelly,soup etc) ; Powder ( flour,milk powder,coffee powder,detergent powder etc) and necessity or bread,vegetables,etc molding products by flow packing machinery.
Q: What is bag shape your packing machine can make ?
A: Usually back sealing bag ( pillow bag ),three-side sealing bag,four-side sealing bag,qual seal bag,gusset bag,triangle bag,linking bag etc.
Q: I know little about the packing machine before,How to use it ? Is it complex ?
A: It is very simple we make sure you can use it easily as per our advice. As you can get any information that can help you to install and use the packing machine,such as a detailed instruction,a whole set design,a installation video,even our technician.
Q: How about your packing machine quality ? any certification you have ?
A: We have a strict Quality Control system which is from Design Dept.-Purchasing Dept.-Product Dept.-Quality Dept.-Packing Dept. ; eighty percent have over 8 year experience,and the left twenty percent has 5 year experience; Meanwhile our packing machine has International Standard CE certification which has passed the most important standard of MD and LVD at the same time.
Q: How to choose the suitable packing machine for my product ?
A: You just need to tell us about your packing product details,packing request that we will provide a reasonable advice and the D Graph for you; even we can provide some choices for you to get a best one.
Q: What is the process to order the packing machine ?
A: First: we will provide the most suitable and reasonable packing machine for you as per your request and offer you a best quotation; Second:we will arrange the production once get your confirmation and the payment advice;About 10-30 days later we will take the finished pictures and working video for you;meanwhile our Department of Quality Assurance will inspect it till make sure every part is no problem completely; then we pack and ship it,but usually you need to arrange the balance payment before shipment; Third: we deal with the Customs Clearance and provide the shipment document for Customs and you; After some time that you can get packing machine well.
Q: What is the after-sales and guarantee ?
A: First: we will assist you to install the packing machine and make sure it can work smoothly; Second: we will provide one year of maintenance and warranty period free of charge. The buyer will carry out the maintenance tasks and we will supply and ship the replacement for defective parts to the buyer free of charge, except the damage is caused by buyer
CONTACT US


Foshan UMEO Packing Machinery Co., Ltd.
We are always providing our customers with reliable products and considerate services.
If you would like to keep touch with us directly, please go to contact us