SEND INQUIRY NOW
Gusseted Bag Powder Packing Machine UMEO-620TF
The powder gusseted bag packing machinery had been shipped to Japan in 2019 who had visited UMEO ans checked the quality before getting the machine ;Gusseted pouch now is more and more welcome by customers because looks much attravtive; Quad seal pouch most notable in coffee,pet food,candy,biscuit and snacks package; this bag holds its shape well on the shelf and can support heavier fills of products;with the additional of a degassing valve,it becomes the perfect solutions for fresh roasted coffee.
The whole package line has 5-parts
1. Vertical Gusset Packer UMEO-620T
The gusset vertical packing machine usually makes gusset stand up pouch for better looks,especially for coffee (beans) with valve,busicuit package etc ; The packer main function for forming different size bag with printing date or logo or bar code etc and sealing bag. And the HMI ( human machine interface ) can be added different language,such as Spanish,Russian,Arabic etc.
2. Auger Filler UMEO-F35
Auger filler machine is suitable for kinds of powder weighing,such as milk powder,flour,coffee powder,spices powder,protein powder,fruit powder etc auto measuring and filling,and its workmanship of auger screw much be strict and each screw distance must be equip,OR precision difference.
3. Spircal Conveyor UMEO-S15
The vibrating spiral feeder machine can lift various powder materials,match with packing machine to realize material level tracking and automatic feeding,also can be used for other industry.
4. Finished Product Conveyor UMEO-S20
The conveyor usually for finished bag conveying to some places,such as a box,a container;also it can connect with turntable ,check weigher,metal detector etc.
5. Rotary Table
The turntable is the addtional collection for finished bag from the output conveyor with uaually 800mm height and 1200mm diameter.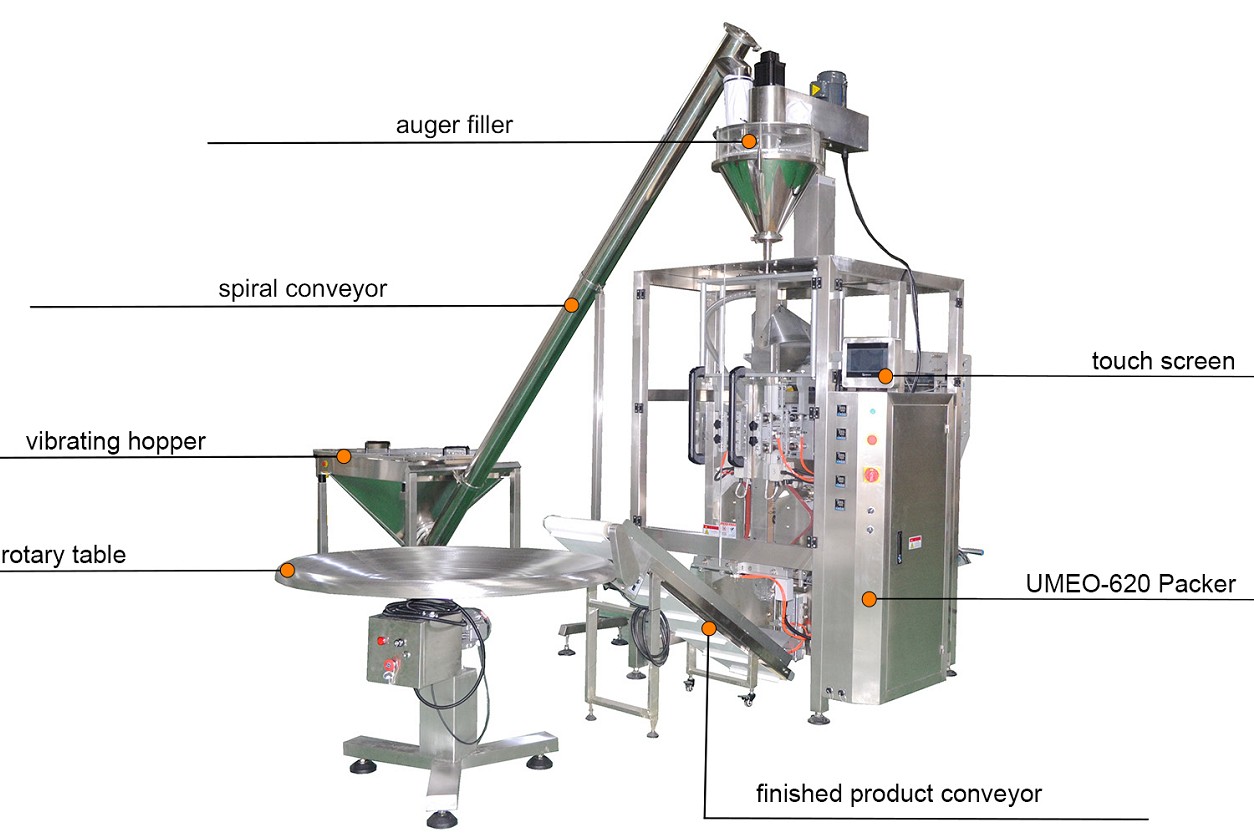 UMEO always pays more attention to the machine every part to make sure every client get get the best quality packaging machinery to increase your package capacity.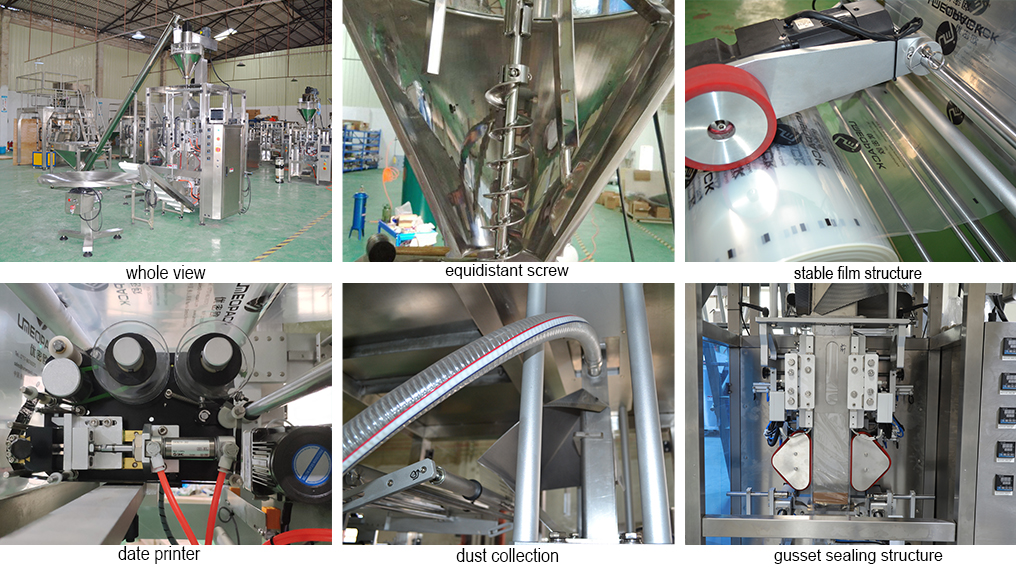 | | |
| --- | --- |
| Item No. | UMEO-620TF |
| Bag Length | 150-400mm |
| Bag Width | front width :80-250mm;side width:40-150mm,iron width:5-10mm |
| Film Width | 620mm (Max.) |
| Packing Speed | 15-45 bag /min |
| Gas Consumption | 0.68m3/min |
| Air Pressure | 0.68Mpa |
| Power | 380V AC 50/60HZ,Single phase,4.5kw |
| Package Material | Aluminium film,OPP/CPP,OPP/PE,PET/PE,PE/PE etc |
| Total Cubic Meter | 12.472 CBM |
| Gross Weight | 1135 kg |
| H.S.Code | 8422.3030.90 |
Automatic powder packing machine is widely applied to different powder package,such as flour powder,spices powder,coffee powder,coco powder and so on.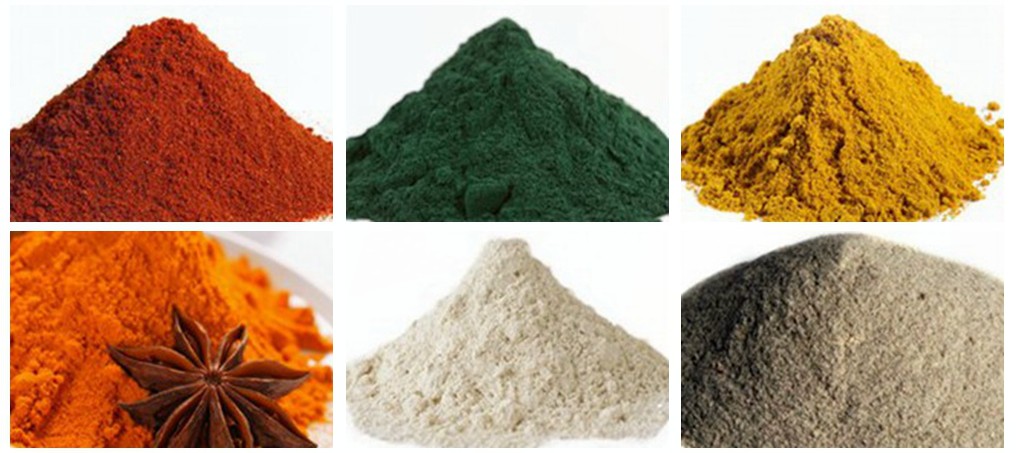 Gusseted bag is a versatile design which is a very popular in the packaging industry with round punching,euro punching or hand-held punching with easy -notch cutting.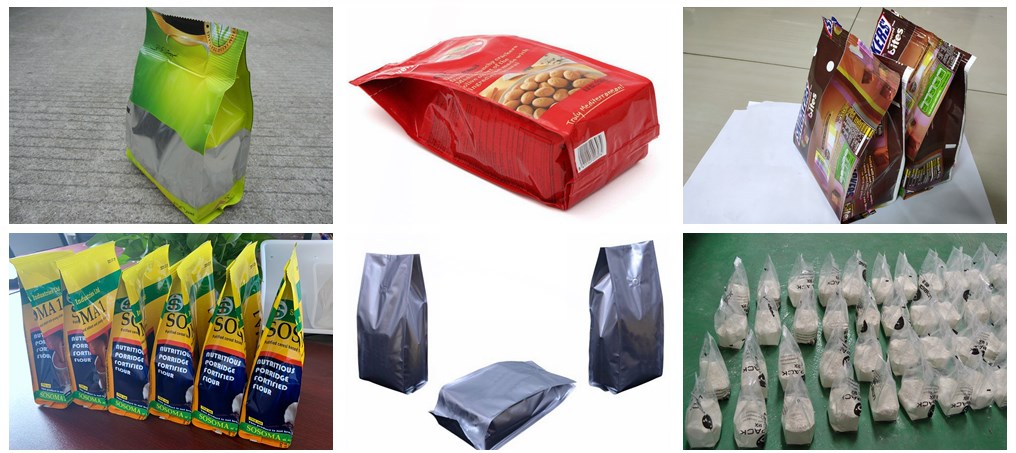 UMEO always pay more attention for packing machine every part,including the shipping package,with reinforced non-fumigation plywood box.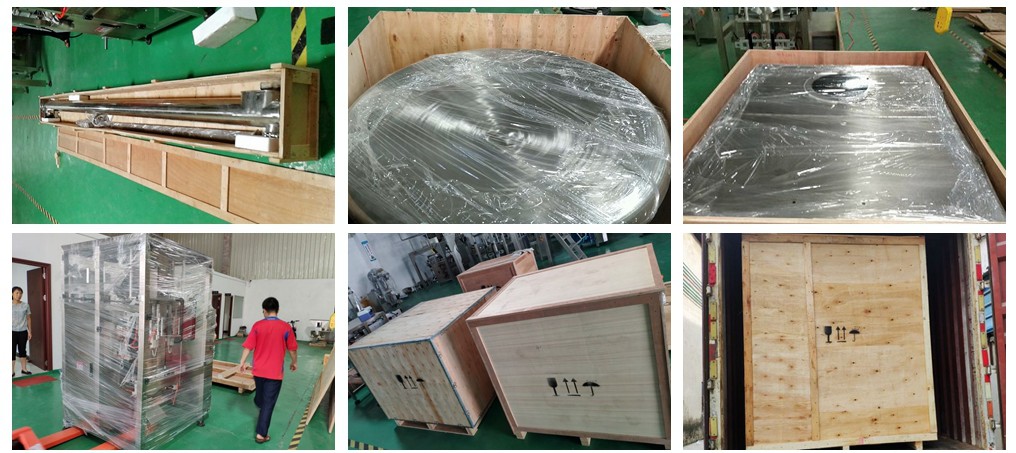 Powder packaging machine is a widely used for different powder package,but the powder feature is very important for the operation,such as the dust,liquility,and if some powder grain form mixed because all these will effect the finished weight precision.
Q: How to know if my product can be packed by this machine?
A: You can provide product details,such as product feature, weight and bag size etc.
Q: What's product the packaging machinery can do?
A: The powder packing machine can pack kinds of powder,such as flour,spices powder,coffee powder etc package.
Q: How to get an exact quotation?
A: Usually we need to know the weight,bag size,bag type and powder feature before offering,
because different product,some details will be different to make sure providing best package solution.
Q: I know little about the packing machine,how to use it ? Is it complex?
A: It is very easy to operate on touch screen which UMEO technician has tested everything well before shipment,
and you just need to install the machine as per our installation video,and connect power to start.
Q: How about the packaging machine quality? Any certification it has?
A: UMEO has a strict Quality Control system from design-raw material purchase-production-package-shipment by
almost all over 10-year experience people on machines; and all machines have been passed the most important
standard of MD and LVD by Italy ISET s.r.l.
Q: What's the after-sales and warranty ?
A: First: operation manual is always available and shipped with packing machine;Second: installation video can be provided,
even internet face-to-face assistance;Third: UMEO technician is always available for abroad service.
Warranty: all the machine has one year guarantee and if unfortunately some problem under correct using and manitain,
UMEO can provide the alternative parts by express; for quick-wear parts,always are provided more with machine shipping.
CONTACT US


Foshan UMEO Packing Machinery Co., Ltd.
We are always providing our customers with reliable products and considerate services.
If you would like to keep touch with us directly, please go to contact us